LS LiDAR CH32 became the second LiDAR in the world certified by Automotive Grade with Level-A class!
On June 30, 2020, led by Shenzhen Leishen Intelligent System Co., Ltd., Xidian University and Shaanxi Automobile Holding Group Co., Ltd. participated in the "2019-2020 Guangdong Province Key Field R&D Program Project "New Energy Vehicles". Special project-Low-cost and high-performance automotive-grade MEMS solid-state lidar system research and development and application project" kick-off ceremony and implementation plan discussion meeting were successfully held at the Shenzhen headquarters of Leishen Intelligent. Zhang Baishang, deputy director of the Guangdong Institute of Science and Technology Information, and Shang Xuefeng, project commissioner, Shen Yan, deputy director of the Science and Technology Innovation Bureau of Shenzhen Bao'an District, as well as relevant experts, scholars, and heads of participating units of the project passed the "online + offline" Form attended the event, and reported and exchanged on the latest research and development progress of the project.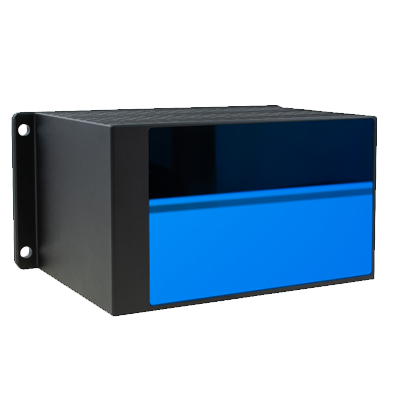 The CH32-line hybrid solid-state lidar is independently developed by Leishen Intelligent and is designed in full accordance with the requirements of Automotive Grade. It is the world's first 32-line hybrid solid-state lidar to achieve mass production.
During the certifcation, 38 tests were carried out from three aspects of LiDAR's climatic and chemical characteristics (12 items), mechanical characteristics (7 items), and electrical characteristics (19 items), including whether the LiDAR that has attracted much attention from the industry can withstand Automotive-level shock vibration and high and low temperature detection. After scientific and rigorous experimental verification, CH32 not only successfully passed all the test items, many of which exceeded the minimum requirements of the automotive grade and reached the A-level standard, becoming the first domestic and the second car-level LiDAR to obtain a formal certification report in the world. 
For a long time, Leishen Intelligent has insisted on product performance and quality, and has repeatedly sculpted the stability and reliability of lidar. The products have undergone shock vibration, simulated transportation vibration, high temperature and high humidity storage,  low temperature storage, high and low temperature cycle, accelerated aging, waterproof and dustproof, electrostatic discharge, operating noise and many other rigorous experimental tests before formal mass production.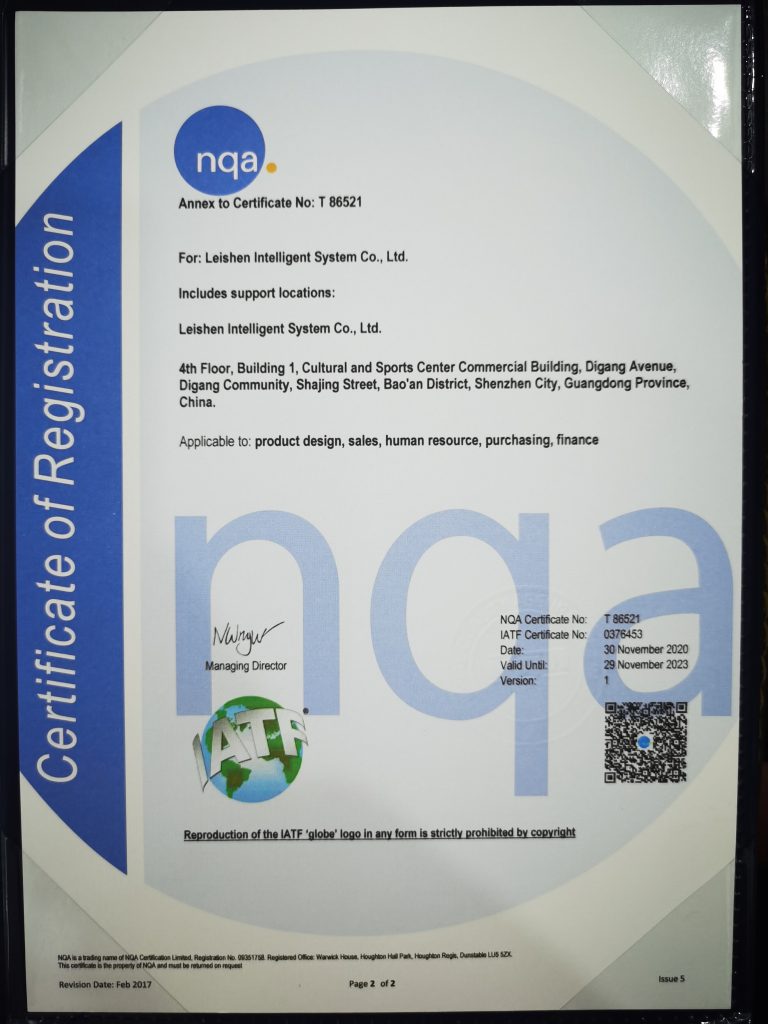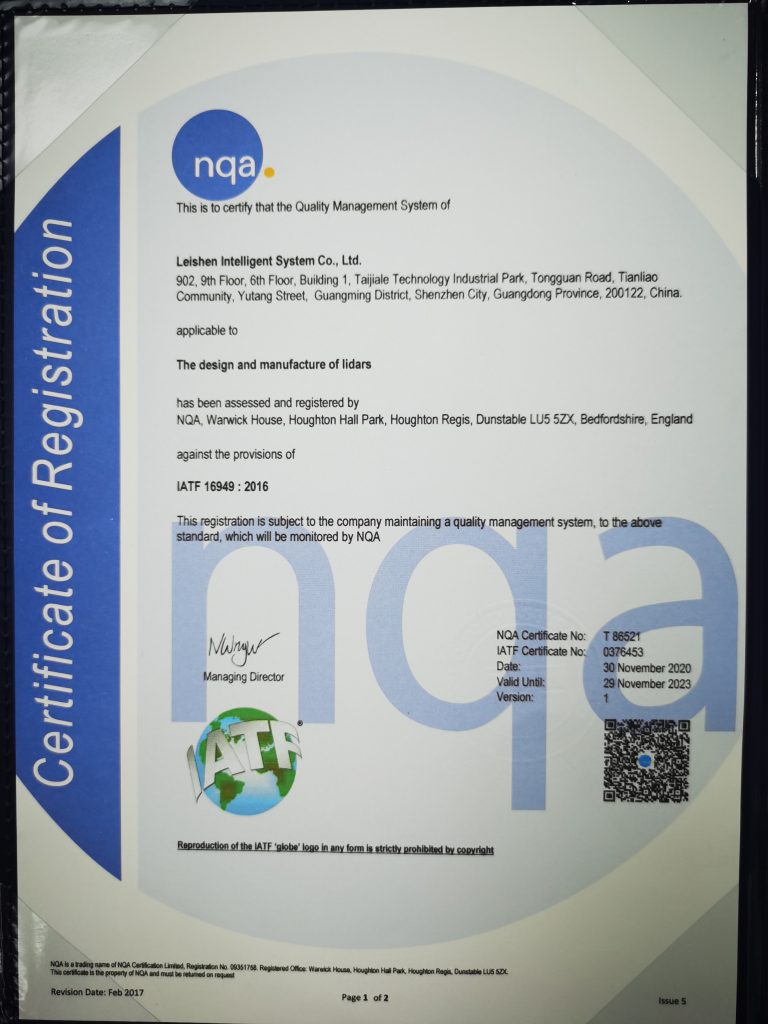 Recently, the IATF16949 international automotive quality management system applied by Leishen Intelligent has been reviewed and approved, which indicates that Leishen has met the high-level quality management standards required by the automotive industry at both ends of the production and service system, making Leishen automotive-grade lidar products Another solid step towards internationalization, standardization and high quality will strengthen the confidence of the automotive partners in the quality of Leishen's intelligent products, and will also promote Leishen's automotive-grade lidar products to further develop the automotive pre-installation market.

Shenzhen Leishen Intelligent System Co., Ltd. is the world's leading provider of lidar and overall solutions. It is committed to empowering industrial upgrading with stable and reliable lidar environment sensing technology, and its services cover autonomous driving, smart transportation, rail transportation, and robotics , Logistics, security, surveying and mapping, ports, and industrial automation.
Leishen Intelligent is the only "Guangdong Lidar Engineering Technology Research Center" recognized by the Guangdong Provincial Department of Science and Technology. With complete independent patent and innovative technologies in Lidar core hardware, dedicated chips, and AI algorithms, it has created the most complete set of products and solutions on the market. The LiDAR product matrix is not only the only LiDAR supplier in the world that has mastered the four lidar measurement principles of TOF time-of-flight method, phase method, triangulation method and FM continuous wave at the same time, it is also the only domestic company that independently developed a LiDAR integrated circuit chip. LS LiDAR also owns automated and semi-automated production lines and in-house technology of 1550nm fiber laser source, and it is currently the lidar company with the largest number of mid-to-high-end lidar sales and delivery in China.