W100C Anti-Collision LiDAR Scanner / Sensor
WxxxC Anti-Collision LiDAR scanner designed by Leishen Intelligent System Co., LTD is a product highly suitable for AGV/RGV/robots and other indoor and outdoor equipment for collision avoidance and intelligent area detection.
This product can select any of the 15 areas as the current work area through the combination of 4 switching value signals.
The farthest working distance of the WxxxC anti-collision LiDAR sensor reaches xxx*0.1m (eg: W050C, 050*0.1 = 5m), within which the user can set freely according to the actualenvironment.
Its robust design with IP67 protection and anti-sunlight glare, makes it ideal for outdoor robotics applications.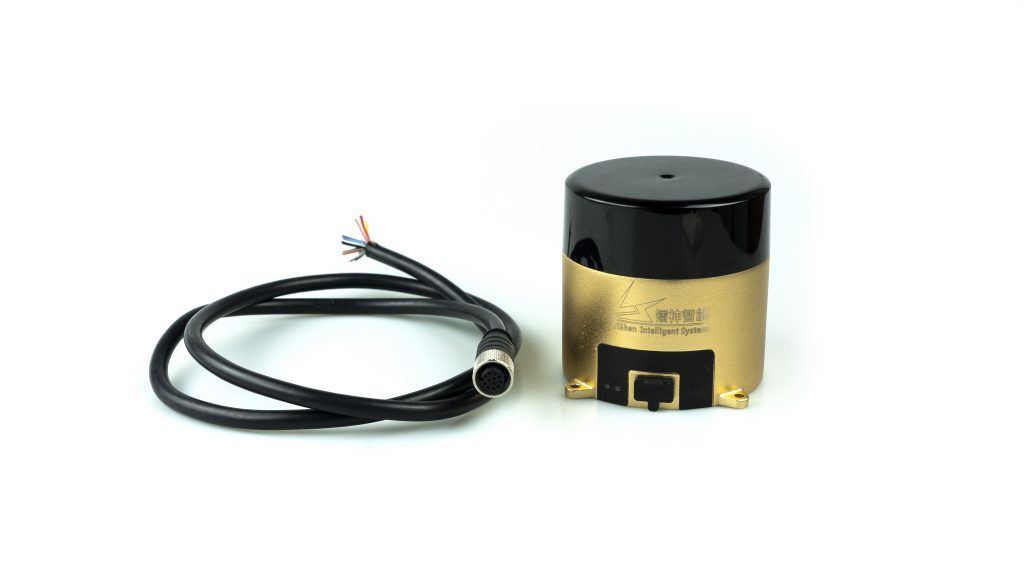 Features
1. WxxxC Anti Collision LiDAR sensor (internal rotation) adopts Time of Flight (TOF) distance measurement method, which can realize 270 degree two-dimensional scanning.
2. Its Scanning Frequency is 10Hz, Angular Resolution is 0.18 degree. By scanning the entire circle area (270 degree) and then calculating the distance of the front object in the polar coordinates, the sensor is able to determine whether there is an obstacle in the set area.
3. This LiDAR is connected to set the detection area through the USB interface of the PC.
4. The detection area (15 areas at most) can be shifted by switching value signals, while three independent Regions of Interest (ROI) can be set freely in each area.
5. The 0 degree angle is right in the front of the sensor.
Specifications of W050 Anti-Collision LiDAR scanner:
Output: Switching value and point cloud rate
Scanning Angle: 270°
Measurement Range: 5m, 10m
Angular Resolution: 1°
Monitoring area: Correlation / Independent
Rotation Speed: 10Hz
Interface: NPN,PNP
IP: IP67
Weight: 397g
Dimensions (D*H): 80*77.3mm
Functions
Anti-collision area settings


Support Documents:
Parts included in the package:
1 unit of W050 anti-collision LiDAR scanner
1 unit of LiDAR cable